Im going here very soon for 3 months, so I eagerly typed in Slough in Google Image to see what beauty it beholds. This what I found.
Top 5 Slough Image hits
http://www.bbc.co.uk/comedy/theoffice/slough/

Impressions? - First up, Im going to the Sims set? It looks very precise, will I fit in? Im just not sure.
What it actually is - Well, according to the web site its Slough Trading Estate, the BBC says We went to Slough with a camera to see if we could find the buildings and places featured in The Office title sequence. Errr, they filmed it, surely they knew where it was? Also I love this comment Do you have a better picture of Slough? Email it in to the site. Surely someone has to have a better picture than that, like a real one perhaps?!
Its fun kids! Its Interactive. With some awesome picture stills of the estate like the The actual office block seen in The Office title sequence as seen from no less than 6 different angles. Also lovely images of the security man called K, Biffa Bins, the menu of the on site café and last but not least Desks, chairs, filing cabinets left out in the Slough rain, and as we all know, Slough has the most destructive rain in the UK.
Does it make me want to go there? Yes, yes it does, even if its only for the sale of the £4.20 Cholesterol Calamity, they sell in the on site café.
http://www.pjls16812.pwp.blueyonder.co.uk/slough/index.html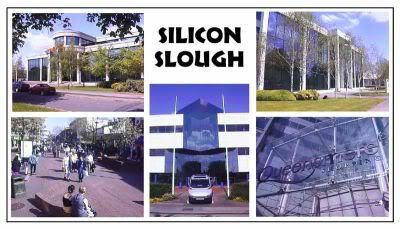 Impressions? I wouldnt send this postcard, lets hope theres better ones to send while Im there. Nice layout, again very linear.
What it actually is - Its postcard from Slough saying Greetings from "Silicon" Slough in beautiful Berkshire. Clockwise from top left: BT Cellnet (now O2); Bath Road; Queensmere shopping centre; Renault; High Street. Oh dear it cant be good when the buildings of companies out do your local architecture & heritage.
Does it make me want to go there? Nope, it doesnt look like its got many features or attractions, but it does have shops. I wonder why its called Silicon? Maybe its bouncy like a castle, that makes me want to go.
http://www.huntandfishsd.com/pictures/
Impressions? At first it looks odd, people in Cammo never appeals to me, then my eye drops down the picture to horrifically find about 40 DEAD ducks on a log. Very odd. This must be America.
What it actually is - Yeah its America, it seems theres a place named Slough in I dont know. It has a lovely picture gallery of dead Deer, dead Buffalo, dead Pheasant, dead fish, dead waterfowl, dead antelope and finally dead turkey. Thats a lot of dead stuff. Maybe the above picture is waterfowl rather than ducks, my mistake. Whats their motto I hear you say? These Are The Memories That Last!!! and I didnt put in the exclamation marks in. Yeah the memories probably last because theyre horrific, people tend to remember bad things. The buffalo they kill are huge! One day I hope they rise up against them and run them down with their hooves.
Does it make me want to go there? No, theres dead things there, I like duck but not that many, I wonder if theyve heard of subsistence farming & hunting? I know they are twats, anyone that gladly poses in photos with a rifle & dead animal tend to be. Im not going there.
http://www.frappr.com/?a=myfrappr&id=584323
Impressions? Stop it! Their breaking his neck! And laughing. Sloughs a scary place with men in white breaking necks, maybe, I just dont know.
What it actually is - Wow hes a man called ken kidston. Its his page at Frappr beta I kinda friendship thingy like myspace, I guess. He has no friends though and no interests, aw. Hes a sound recordist, married & living in Slough. But does his wife know hes using this page to groom young boys?
Anyway it looks like he only set this up to join the community of TV freelancers, hes already posted a comment saying encouraging someone to see my point of view, tee hee He has a sense of humour maybe that will get him friends.
Does it make me want to go there? Unsure, Id have to swot up on my TV jargon & knowledge of free lancing for Ken to even look at me. But then maybe he can then have a friend.
http://www.funkypancake.com/blog/archives/2003_04.html
Impressions? Its dead taxidermist dog in a box, take it or leave it. It looks heroic, maybe he was a messager dog with his little bag and probably in a war. It is the best Slough picture by far, the council should use it for the tourist brochure.
What it actually is -The only explanation is that it is in Slough station. It seems the owner of the web site takes pictures of stuff, some of his family and some random stuff, like wellies on the street and abandoned sofas. The web site has a review "From the mundane to the mad, the interesting to the absurd, [he] captures moments and objects that few of us ever notice ... and perhaps don't need to. 2
Dogs Today magazine - may 2005
Can I draw you to the name of the magazine Dogs Today?!
Does it make me want to go there? God yeah, I want to find out all about this Dog, its life troubles, what messaging obstacles it faced, its inside leg, what war it fought in, how many Nazis it bite to death, did he actually talk to Hitler?, what type of material its stuffed with, etc. Err, yeah.
The end.